---
There is more than one recipe for pancakes on this website, if you are looking for some other recipe, try here:
all pancake recipes
.
---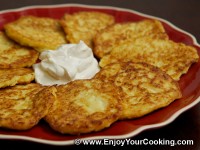 This is my recipe in support of Faina's with Cucee Sprouts cauliholic addiction. I hope you will like it 🙂
Yet another vegetable pancakes recipe. These are usually healthier choice: they contain much less flour (comparing to usually flour-based pancakes) – batter mostly consist of vegetable goodness and, of course, a bit of eggs 🙂
I love cauliflower in any of its appearance, and I consider cauliflower pancakes to be one of the easiest and fun ways to cook it.
Ingredients:
1.5lb cauliflower head
2 eggs
3 tbsp of mayonnaise
3-4 tbsp of flour (or a bit more)
½ tsp of baking soda
Salt
Sunflower oil
How to prepare, step-by-step:
Enjoy!
23 Responses to "Cauliflower Pancakes"