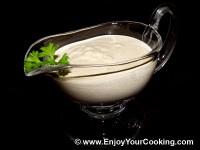 I think that is one of the easiest cream sauces to do, but it is also a bit heavy due to usage of whipping cream as a main ingredient.
Personally I think the taste this sauce completely worth working out those extra calories later on. But it is for you to decide: try substitute cream with smaller amount of half & half to make it a bit lighter if you wish.
Cream of Mushroom Sauce is perfect addition for potato-based dishes: potato dumplings, potato pancakes or simply boiled potato; it will also benefit grilled or fried chicken meat or roast beef; as well as it can be served as a pasta sauce.
Ingredients:
14-16 oz of fresh field mushrooms
3 shallots
2 cups of heavy whipping cream (25%-30%)
2 tbsp of sour cream
Vegetable oil of your choice
Salt to taste
How to prepare, step-by-step:
Enjoy!