---
There is more than one recipe for pancakes on this website, if you are looking for some other recipe, try here:
all pancake recipes
.
---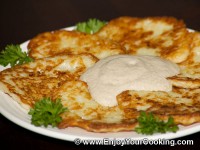 Potato pancakes, prepared from fresh chopped or grated potatoes, onions, eggs and flour, are commonly associated with various cuisines of Europe. In Ukraine they are called "deruny", in Russia and Belarus "draniki"; similar recipes can be found in Polish, German, Austrian, Czech cuisines.
Potato pancakes are usually a main no meat dish for lunch or breakfast; it tastes good topped with sour cream or mushroom sauce.
Even though potato pancakes are good enough as a separate dish, they can be also served as a side dish for vegetable or meat main dish course.
Ingredients:
4-5 medium size potatoes (about 1.5 lb)
2-4 onions (to taste)
1 egg
2-4 tablespoons of all purpose flour
Salt to taste
Vegetable oil
How to prepare, step-by-step:
Enjoy!
14 Responses to "Deruny (Potato Pancakes)"