Tag:
capers

(Page 1 of 1)

October 23rd, 2010 in Sauces & Dips & Spreads by Julia Volhina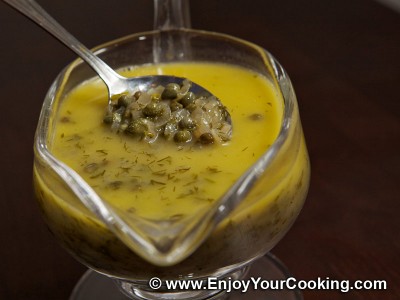 Rich sauce prepared from shallots cooked with white wine, butter and capers and seasoned with fresh chopped dill. It suits for any kind of fish whatever it is boiled, fried or grilled. Goes good with salmon (see Salmon with Capers and Dill Sauce recipe), cod, tilapia and other fish which you would usually serve with butter sauce of some kind.
If you are trying to get more liquid sauce use more wine or add more shallots otherwise. If you don't like texture of cooked onions – increase shallots frying time and cook them with wine longer.
Ready sauce can be stored in the fridge, but it should be served warm, just make sure when you reheat it to remove sauce from burner before it starts boiling.
October 30th, 2009 in Fish, Main Dishes by Julia Volhina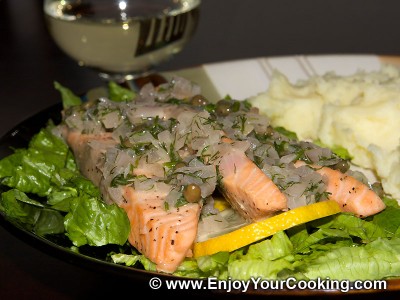 Capers and dill, butter, wine and shallots – those are ingredients of very good sauce for fish. Personally I pick salmon, because it is especially good when boiled or even simmered like in this recipe. However I think it will work with other kind of fish without any problem.
Should I also remind you what fish is an important part of the healthy diet?
Got a romantic dinner coming up and want to surprise your date with something special? I recommend this tender salmon dish, especially if after preparing of it you still have a few sips of Chardonnay left to accompany it with.