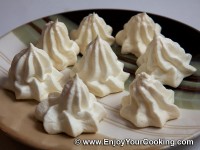 Beze cookies or meringues (probably more familiar name for you) are one of those desserts you can put together literally from almost nothing.
2 egg whites and a bit of sugar – that is all you need prepare a nice finishing for the romantic dinner or something to sweeten your life with when you need it.
Using of pastry bag, when you operate with sugary and bubbly "batter", can be hard at the beginning, but it goes easier once you get used to it.
If you have choice – pick bigger bag so you have more room for maneuver when loading it with "batter".
Ingredients:
2 egg whites
1/3 cup of sugar
How to prepare, step-by-step:
Enjoy!
13 Responses to "Russian Beze Cookies (Meringues)"