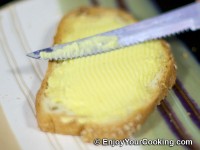 Couple of years ago we discovered Snowville Creamery. This creamery is local to Columbus OH area and it produces milk, half-half and whipping cream amongst other dairy products. These are absolutely delicious but only come in a half-gallon cartons.
And if I can find something to do with a half-gallon of milk, whipping cream is absolutely other matter: it is not so easy to use all of it (not unless I plan to eat whipped cream every day for breakfast, lunch and dinner for couple days in a row) in time.
Did I mention that Snowville Creamery whipping cream is absolutely delicious? It would be an absolute shame to let it spoil. So when I buy a whole carton and I only need a cup or two of it for some recipe, I do butter from the rest.
By the way, if you can't find Snowville Creamery products nearby, make sure you use 100% not homogenized whipping cream instead, with no extra ingredients in it (check the label!).
Ingredients and Tools:
Not homogenized whipping cream at room temperature
Salt (optional)
Stand mixer
Cheese cloth
How to prepare, step-by-step:
Enjoy!
Tips and Advises
Liquid produced while preparing butter from cream (buttermilk) can be used to prepare crepes, bread, muffins instead of milk; or as a marinate for chicken meat or fish for grilling.
4 Responses to "How to Make Butter from Whipping Cream"