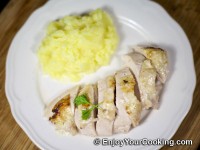 Whole chicken smeared with mayo and garlic mix and roasted in an oven bag is probably the easiest way to cook a whole chicken.
Oven bag can be replaced by cooking foil, just cover baking pan with chicken in it with one or two layers.
When checking if chicken is cooked through use meat thermometer (around 160F-170F), or go by clear juices produced when you pierce chicken around thigh, or just by time – around 1.5h at 350F.
Ingredients:
1.5-2lb whole chicken, giblets removed
3-4 garlic cloves
About 5 tablespoons of mayo
Ground black pepper to taste
Salt to taste
How to prepare, step-by-step:
Enjoy!