Tomato and Chicken Salad
November 9th, 2013 in Salads by Julia Volhina

Total cooking time:

45min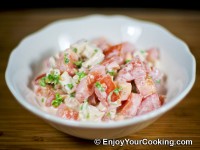 Quick to make and simple salad with chicken meat and tomatoes seasoned with mayo and garlic.
Tomatoes will produce juice after cutting, so it is better to assemble this salad right before you plan to serve it.
A lot in this salad will depend on how tasty tomatoes are, so pick good and ripe ones.
Ingredients:
0.5lb of chicken breast meat
3-4 ripe tomatoes
1 small garlic clove
Small bunch of fresh parsley
2-3 tablespoons of mayo (or more to taste)
Ground black pepper to taste
Salt to taste
How to prepare, step-by-step:
Enjoy!Local Hookup Dating is designed to help singles find local singles, meet new people and eventually find a second date. This site is for the singles who want to have fun, have a good time and meet someone new at local events. Local Hookup Dating is a free service that hookup meetsexgf online is easy to use, with lots of options for both men and women, regardless of where they are located. It's free to join, and free to view profiles.