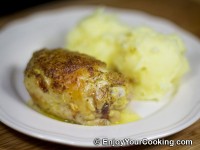 Unusual combination of ingredients which produces interesting taste results: chicken pieces roasted under sauce made of mixture of melted butter, mustard, honey and curry.
This recipe is good choice for romantic or family dinner, leftovers can be reheated and served for lunch.
You can use chicken thighs (like I did), or drums, or a whole chicken sliced into portion pieces. Please note that drums will require less time for cooking.
Ingredients:
2lb of chicken meat
4oz of butter
4 tablespoons of mustard
2 tablespoons of honey
1 teaspoon of curry
Salt to taste
How to make, step-by-step:
Enjoy!