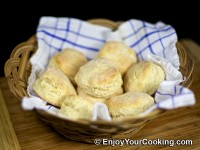 It was a bit unusual for me to learn that name for this kind of flaky breakfast breads is "biscuits", at least this is what they are called here in US.
There are variations of biscuits prepared with milk, or buttermilk, my recipe uses kefir. Kefir consistency may vary, for more thick kefir you may need to use more than a cup. For better results, use butter and kefir cooled down directly from fridge.
Flaky kefir biscuits taste perfect when served warm with a slice of butter, for breakfast or brunch.
Ingredients:
1.5 cups of flour + more for dusting
3 oz of butter
1 tsp of sugar
0.75 tsp of salt
3 tsp of baking powder
1 cup of kefir
How to prepare, step-by-step:
Enjoy!
14 Responses to "Flaky Kefir Biscuits"