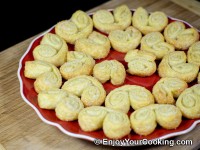 This is pretty easy recipe for sugar sprinkled puff pastry cookies which can be made from either ready-to-use puff pastry dough, or homemade one. Either way the recipe isn't too complicated to follow.
I used whole sheet of puff pastry dough prepared for last week recipe (that was made from 2 cups of flour, 8 oz of margarine and 2/3 cups of water). That yielded me 2 full cookie sheets (2 batches) of 36 cookies each.
You can adjust size of the cookies by playing with the dough: thinner dough rolled into smaller rolls will produce smaller cookies, thicker dough or/and bigger rolls will produce bigger ones.
If you like cookies to be more sweet, roll dough slices in sugar before putting them to the cookie sheet (but for me it is a bit too sweet, so I usually skip this part).
Ingredients:
A sheet of puff pastry dough
Sugar to taste (coarse sugar works better)
How to prepare, step-by-step:
Enjoy!
One Response to "Elephant Ear Cookies"