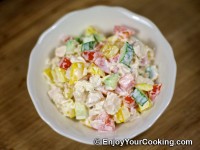 Spring is right around the corner. And even though nowadays you can buy fresh vegetables all year around, in spring they taste somehow special. Maybe this is a way how body let's you know it needs to be replenished with vitamins.
This is why I am publishing this recipe for salad made of fresh bell peppers, cucumbers and tomatoes with boiled white chicken meat and a bit of cheese.
By the way, mayo in the dressing can be mixed with sour cream for skinnier version.
Ingredients:
0.5-0.75lb of chicken breast meat
1 big bell pepper
2-3 tomatoes
2-3 baby cucumbers
0.5 cup of shredded cheese (I used italian blend)
Mayo to taste
Ground black pepper to taste
Salt to taste
How to prepare, step-by-step:
Enjoy!
2 Responses to "Salad with Chicken and Fresh Vegetables"