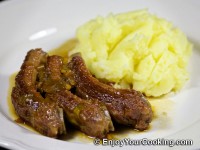 In this recipe baby back ribs are first boiled, then fried and then stewed with sauce prepared with leeks, ginger, soy sauce, wine and balsamic vinegar.
It is good way to cook ribs if you don't have or don't want to use grill.
Serve ribs warm with side dish of potatoes, pour sauce over ribs.
Ingredients:
2lb rack of baby back ribs
3 quarts of water
2 inches long fresh ginger root
3 leeks
4 tablespoons of dry wine (red or white, to taste)
2 tablespoons of olive oil
4 tablespoons of soy sauce
4 tablespoons of sugar
2 tablespoons of white balsamic vinegar
2 tablespoons of sesame oil (optional)
Salt to taste
How to prepare, step-by-step:
Enjoy!