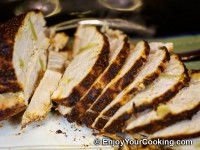 I think this is last recipe using turkey meat for me for a while. I got a little carried away with it around Thanksgiving.
It is quite easy, but takes about 4.5 hours of time: first to soak turkey breast in salted water, and then to cook it in cooling down oven. So make sure you leave yourself enough of time.
This turkey breast roast tastes perfect served warm with a side dish or cooled down in salad or on sandwich.
Ingredients:
1.5lb-2lb whole turkey breast half
4-5 garlic cloves
1 tablespoon of ground black pepper
3 tablespoons of paprika
2-3 tablespoons of olive oil
Salt to taste
How to prepare, step-by-step:
Enjoy!
2 Responses to "Turkey Breast Roast with Garlic, Paprika and Black Pepper"