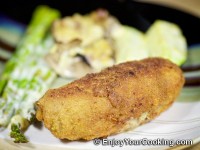 Pork rolls with a hint of mustard and pickles inside is not a healthiest recipe out there (due to pork and deep frying) but definitely interesting one to try at some point.
I like to use boneless country style pork ribs cut for this recipe. This cut is usually tender and juicy and easy to flatten into soft cutlets. However another soft pork cut may work here as well.
Make sure meat you use doesn't have excess amount of fat and other connective tissue, or rolls will get harder to cook through (these I used for pictures had a bit too much of it, but I couldn't find better one), use meat which has more meat in it with a bit of fat around it.
Ingredients:
1.8 lb – 2lb country style pork ribs boneless – for about 12 cutlets
3-4 small pickled cucumbers (salt pickles are better, vinegar pickles will do)
2 tablespoons of mustard
1.5 cups of plain bread crumbs
2 eggs
Ground black pepper to taste
Salt to taste
Enough oil for deep frying
How to prepare, step-by-step:
Enjoy!