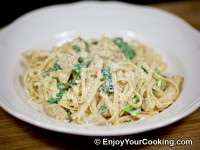 This pasta dish recipe is greatly inspired by Zuppa Toscana you can find in "Olive Garden" here in US.
It has distinct Italian taste (thanks to spices in sausage), creamy parmigiano reggiano sauce and any pasta you want, all though I suggest using whole wheat linguini pasta for healthier option.
Using of hot Italian sausage rather than mild one will make the dish hotter obviously, mixing both is an option too.
Serve Italian Sausage Pasta for dinner or lunch, serve it hot, it tastes better fresh, not reheated. Stated amount of ingredients yields exactly 2 portions, adjust amounts if you need more or less.
Ingredients:
0.5lb mild or hot (or mix) Italian chicken sausage
2 servings of whole wheat pasta
1-2 kale leaves
1 small onion
2-3 garlic cloves
1/2 cup of heavy cream or half-half
4 tablespoons of grated parmigiano reggiano cheese plus more for dressing
Oil for frying
Ground black pepper to taste
Salt to taste
How to prepare, step-by-step:
Enjoy!
Nutrition Facts
Servings Per Recipe: 2
Calories Per Serving
:
804
Calories from Fat 369
Amount Per Serving
% Daily Value*
---
---
Amount Per Serving
% Daily Value*
---
Total Carbohydrate
72g
24%
---
*Percent Daily Values are based on a 2,000 calorie diet. Your daily values may be higher or lower depending on your calorie needs.
Note: Nutritional information is calculated approximatelly based on recipe amounts and generic ingredients used, real life numbers will vary.