Tag:
kale

(Page 1 of 1)

April 9th, 2016 in Chicken, Main Dishes, Pasta by Julia Volhina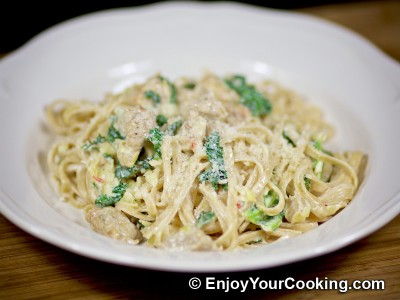 This pasta dish recipe is greatly inspired by Zuppa Toscana you can find in "Olive Garden" here in US.
It has distinct Italian taste (thanks to spices in sausage), creamy parmigiano reggiano sauce and any pasta you want, all though I suggest using whole wheat linguini pasta for healthier option.
Using of hot Italian sausage rather than mild one will make the dish hotter obviously, mixing both is an option too.
Serve Italian Sausage Pasta for dinner or lunch, serve it hot, it tastes better fresh, not reheated. Stated amount of ingredients yields exactly 2 portions, adjust amounts if you need more or less.
March 14th, 2015 in Salads by Julia Volhina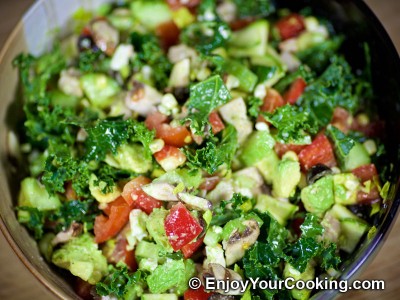 This salad is more advanced version evolved from Raw Vegetable Salad with Feta.
I added few ingredients: kale, celery, zucchini, corn, olives, mushrooms and a protein source, boiled chicken, to make things a bit more interesting.
I take this salad ingredients with me and slice them up at work for a healthy lunch. It only takes few minutes to do.
By the way, if you boil chicken right before making the salad, make sure you let it cool down to room temperature first.
June 22nd, 2013 in Hot Soups, Soups by Julia Volhina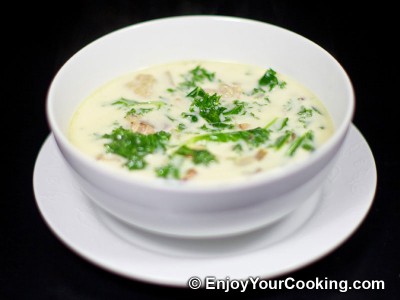 Zuppa toscana (or italian sausage soup with skin on potatoes, bacon and kale) is one of the reasons I usually go to Olive Garden for. Now with this recipe I don't have to anymore (but I still can :), they also have neat tiramisu).
This soup has very distinctive italian taste because of spices in sausage. By the way either mild italian chicken meat mix with spices or sausages themselves will work for this recipe. I think meat mix is a bit easier to handle.
Using canned broth for this recipe is easier and saves time, but isn't absolutely necessary, you can cook the broth yourself.
Serve this soup hot, that way it will provide nice warm feeling especially on cold weather. If you need to reheat the soup leftovers, don't overheat it, just bring to light simmer and serve.