Raw Vegetables and Chicken Salad with Feta
March 14th, 2015 in Salads by Julia Volhina

Total cooking time:

20min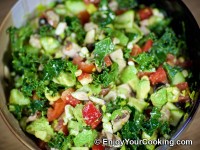 This salad is more advanced version evolved from Raw Vegetable Salad with Feta.
I added few ingredients: kale, celery, zucchini, corn, olives, mushrooms and a protein source, boiled chicken, to make things a bit more interesting.
I take this salad ingredients with me and slice them up at work for a healthy lunch. It only takes few minutes to do.
By the way, if you boil chicken right before making the salad, make sure you let it cool down to room temperature first.
Ingredients:
1 big or 2 smaller kale leaves
0.5 of red bell pepper
2-3 campari tomatoes
1 baby cucumber
0.5 of fresh corn ear
0.5 of baby zucchini
2 mini bella mushrooms
1 celery stalk
2 tbsp of chopped black olives
1 boiled chicken thigh, skinless and boneless
3 tbsp of feta cheese crumbles
1 avocado
Ground black pepper to taste
Salt to taste
Olive oil to taste
How to prepare, step-by-step:
Enjoy!