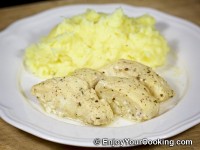 Cod fish may taste a bit plain and somewhat boring, but not if prepared with mustard and lemon marinade like in this recipe.
Onions cooked along with fish in the same marinate taste just great (I think I might like onions the same as fish if not more). So don't be shy on amount of onions to use.
Marinating requires at least an hour, but can be extended to few, as long as you keep the fish is in the fridge. And will allow to do all preparations in advance in needed and then cook fish right before the serving.
Ingredients:
1-1.5lb of cod fish filet
1-2 big onions
4 tablespoons of any mustard (or if you have: 2 tbsp of dijon mustard + 2 tbsp of original mustard)
Juice of 1 lemon
0.5 teaspoon of sugar
1 teaspoon salt
1 tablespoon of olive oil
Herbs to taste (whatever you like with your fish: rosemary, thyme, marjoram, parsley, dill, black pepper, etc)
Additional Tools:
How to prepare, step-by-step:
Enjoy!