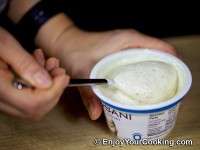 Yogurt, mustard and lemon juice salad dressing tastes great especially in meat based salads, but is also good with tomatoes, good on sandwiches and as dipping sauce.
It can be used as lighter substitute for mayo: if you compare 900 calories for 5oz of mayo to about 140 calories of similar amount of this dressing.
Now, taste of this dressing will vary based on what kind of mustard you use, as well as based on proportion of mustard and lemon juice. Just experiment with different types and proportions to your liking.
I like using chobani yogurt for this one: there is enough space in the container to fit mustard and juice and mix, so no need to use extra bowl for mixing.
Ingredients:
5.3oz container of plain non-sweet greek yogurt
1.5 teaspoon of mustard
1 teaspoon of lemon juice
How to prepare, step-by-step:
Enjoy!