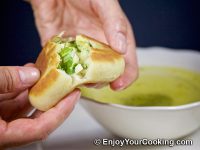 These are my favorite fried pies – my grandma used to cook these, and I was always amazed how such simple combination of ingredients can produce such tasty pies.
These are type of russian pies (piroshki or pyrizhky) – dough dumplings stuffed with green onions and hard boiled eggs and then fried on a skillet.
Again, you can use ready-to-go dough, or prepare dough yourself, for this recipe you would need about half of the batch prepare for unsweetened yeast dough.
Ingredients:
Not sweet yeast dough (see recipe)
4 hard boiled eggs
2 bunches of green onion
Small bunch of dill
Butter
Ground black pepper to taste
Salt to taste
Oil
How to prepare, step-by-step:
Enjoy!