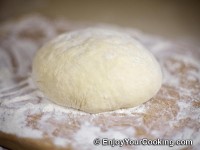 Yeast dough is commonly used for baked pies and fried pies/dumplings (pirozhki/pyrizhky).
Slavic cuisine features pies with various sweet and savory stuffing, and they all are usually prepared with dough as simple as this one.
Dough for small pies doesn't usually require time for rising, you can start assembling them as soon as dough is kneaded: when you are finished with last one – first is ready to to fry/bake.
For whole piece pies you may need to set dough aside for 20-30 mins before cooking to rise.
Ingredients:
About 4 cups of all purpose flour
1 cup of milk
1 pack dry yeast (1/4 oz)
1 egg
1 teaspoon of sugar
2-3 tablespoons of oil
1/2 teaspoon of salt
How to prepare, step-by-step: