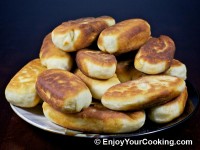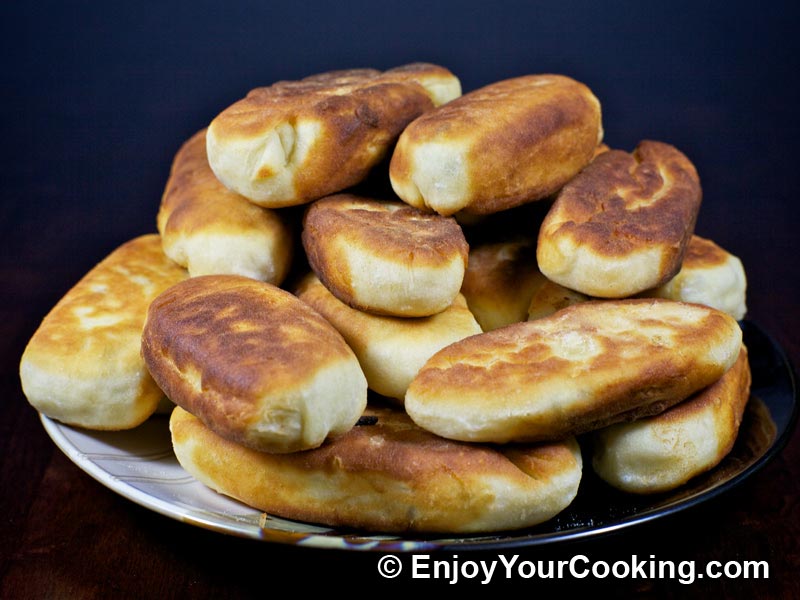 Fried pies (piroshki/pyrizhky), resembling individual size fried buns of yeast dough with stuffing, are very popular in all countries of ex-USSR. There are many stuffing variations for these: fruity and sweet or savory.
This is recipe for piroshki with boiled meat and rice stuffing – meat left over after preparing broth or soup is usually used to prepare these. And later fried pies can be served together with that soup or broth.
Piroshki are good choice if you need to take food to-go: they don't require refrigeration to keep them fresh (for 1-2 days).
Ingredients:
Sunflower oil for frying

Stuffing
Boiled beef prepared from about 1.5lb of raw meat with bones
1 big onion
1/3 cup of rice
1 tablespoon of sunflower oil
Ground black pepper to taste
Salt to taste

Dough
About 4 cups of all purpose flour
1 cup of milk
1 pack dry yeast (1/4 oz)
1 egg
1 teaspoon of sugar
2-3 tablespoons of oil
1/2 teaspoon of salt
How to prepare, step-by-step:
Enjoy!
6 Responses to "Russian Fried Pies with Meat and Rice Stuffing"