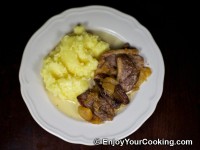 Duck meat does go great with apples; usually stuffing a whole duck with apples and then roasting it in the oven is a way to go. But first – it can take quite some time, and then – it bears hassle of dealing with bones when serving and eating.
All of that is gone if boneless duck breasts are sliced and stewed with apples in a deep skillet like in this recipe. It also makes it easier to serve exact amount of meat for each portion.
Any apples will do good for this recipe, however sour ones are better.
Ingredients:
1.5 – 2 lb of boneless duck meat (duck breasts or similar)
2 big apples
1-2 table spoons of oil (optional)
Salt to taste
How to prepare, step-by-step:
Enjoy!
6 Responses to "Duck Meat Stewed with Apples"