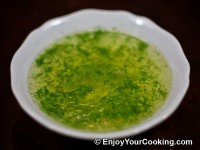 Beef broth with vegetables is easiest liquid food to make, easiest to consume, good for your digestive system. Why not to cook it yourself instead of pouring it out from a can or a box?
All you need is beef with bones (I find shank cut very suitable for soups and broths), roots (carrots, parsley, celery), onion, fresh greens and this recipe.
Clear beef broth is nice to accompany any food prepared from that boiled meat cooked in the broth (since you don't need it after broth is cooked), such as crepes with boiled meat stuffing, savory pies or fried dumplings.
Ingredients:
1.5lb of beef for soup, bones in (beef shank or so)
2 carrots
1 parsley root or a parsnip
A piece of celery root
1 onion
Fresh dill
Salt to taste
How to prepare, step-by-step:
Enjoy!