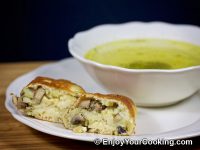 Another traditional russian dish for these who feel adventurous to make it: fried pies with potatoes and mushrooms (piroshki or pyrizhky).
I don't think it is hard to do, but it does require some time and can be a nice activity for whole family, since assembling pies will go faster with more hands 🙂
You can use ready-to-go dough, or prepare dough yourself, for this recipe you would need about half of the batch prepare for unsweetened yeast dough
Serve pies warm or cooled down, alone or accompanied by a clear broth or soup.
Ingredients:
1-1.5lb of potatoes
8-10 oz of mushrooms
1 onion
Dried or fresh dill (optional)
Pepper to taste
Salt to taste
Not sweet yeast dough
Oil for frying
How to prepare, step-by-step:
Enjoy!