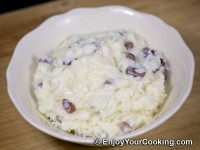 This is a breakfast food of my childhood: soft rice porridge cooked with milk and sweet raisins.
Round kinds of rice will probably work better for it, but any white rice will do.
Cook porridge on slow simmer. Don't forget to stir while cooking, to prevent rice from sticking to the bottom of the pot and burn.
Amount of milk to use for this recipe will vary depending on kind of rice and how liquid you like your porridge to be. I used exactly 2 cups.
Ingredients:
1.5cups of white rice
3 cups of water
2-3 cups of milk
3/4 cups of raisins
2 tablespoons of sugar
2 tablespoons of butter
Salt to taste
How to prepare, step-by-step:
Enjoy!
6 Responses to "Rice, Milk and Raisins Porridge"