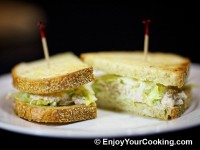 This is a base chicken and celery salad recipe for sandwich to be served for breakfast or lunch.
The salad can be prepared in advance and used when needed, just store leftovers in fridge.
You can also use grilled chicken leftovers for this recipe or cook chicken breasts from scratch.
Ingredients:
1lb of chicken breast meat
4-5 fresh celery stalks
3/4 cup shredded of mozzarella cheese
Toast bread
Iceberg Lettuce to taste
Ground black pepper to taste
Salt to taste
Mayo