Chicken Salad with Celery and Grapes
August 7th, 2010 in Salads by Julia Volhina

Total cooking time:

45min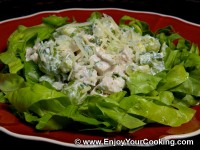 I never tried fresh celery stems before we got to US. I was more familiar with celery root – it is largely used to prepare soups and stew or even salads of European cousines, but I can't say eating stem parts of it is as popular in Europe as in US.
According to wikipedia, celery is a source of good low-calorie dietary fibre, which makes it not only tasty (btw I found taste of it fascinating) and also healthy.
Saying all of that, here comes the nice salad recipe for fresh celery stems and boiled white chicken meat; grapes give it a little kick in flavor, as well as almonds. Hope you will like it.
Ingredients:
1.5 lb of boneless skinless chicken breast
4 stems of fresh celery
1 lb of seedless grapes (grapes with seeds can be cleaned, but that is a bit of a hassle)
Almonds
Fresh parsley
Mayonnaise
Salt to taste
Shredded cheese of your choice to taste (optional)
Shredded lettuce for decoration (optional)
How to prepare, step-by-step:
Enjoy!
4 Responses to "Chicken Salad with Celery and Grapes"