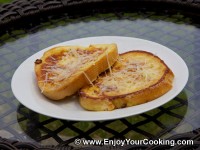 French toasts are easy to do and very tasty. They fit perfectly for breakfast or brunch, or as a quick to prepare snack.
It is good to use not so fresh, 2 or 3 days old bread for french toasts. However it you only have fresh bread – just dry slices of it in the toster for a bit, it will make preparation easier.
French toasts can be served plain or with various topping: honey, berry jams or syrups. I prefer them topped with shredded cheese or mix of cheeses.
Ingredients:
2 eggs
4 slices of white bread
1/3 cup of milk
Ground cinnamon, to taste
Vanilla sugar, about ½ teaspoon
Shredded cheese of your choice
1 table spoon of butter
How to prepare, step-by-step:
Enjoy!
8 Responses to "French Toasts with Cheese"