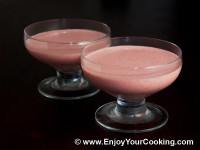 Even though here I can buy strawberries almost any time of year, they are especially tasteful at summer. So yes, it is a strawberry time!
So if you looking for a nice recipe for strawberries – here it is: sweet whipped cream with puree of fresh sweet tasty strawberries and a bit of jelly. Easy to prepare, and even easier to eat 🙂
Of course, whipped cream is a bit heavy for the figure especially if it is mixed with sugar, but it is also totally delicious – so I allow myself to enjoy it every once in a while. But if you are trying to follow low calories / low fat diet this recipe is probably not for you.
Ingredients:
10 oz of strawberries
1 cup of heavy whipping cream
½ cup of sugar (or less if strawberries are sweet)
2 tbsp of unflavored gelatin (¼ oz)
2/3 cups of cold boiled water
How to prepare, step-by-step:
Enjoy!
5 Responses to "Strawberry Cream Dessert"