Tag:
gelatin

(Page 1 of 1)

July 30th, 2016 in Desserts by Julia Volhina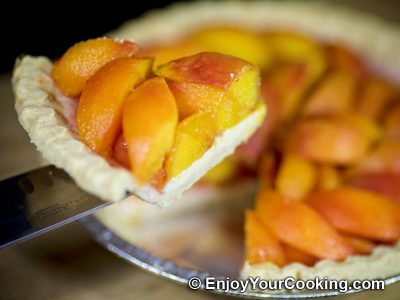 In continuation of a peach topic (remember, I got a whole box of juicy tender sweet Georgia peaches?) I present to you the fresh peach pie recipe.
Almost hassle free (especially if you use ready to bake pie shell as I did) and very tasty (if ripe sweet tasty peaches are used). Peaches remain uncooked (only shell is baked) and taste as fresh as they can be.
I used leftover peach kompot to prepare gelatin topping for this pie. Peach juice can be used instead (if it doesn't contain pineapple in it). A bit of peach preserves mixed with some water to get needed amount and consistency will work as well.
July 7th, 2012 in Desserts by Julia Volhina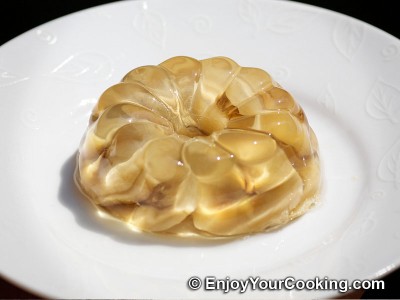 Tipsy wine-based banana jelly isn't the kind which comes to the mind first when talking about jelly desserts. It has unusual taste and as you can guess includes some alcohol, which makes it not suitable for children.
Any white wine will work for this recipe. Taste of the dessert will vary based on the taste of the used wine, adjust amount of sugar to your liking to get the best results.
Using silicone molds will give you more festive shaped jelly portions, however be aware that getting jelly out of the molds in one piece isn't that easy (especially if the molds you use are such small ones like mine).
July 24th, 2010 in Desserts by Julia Volhina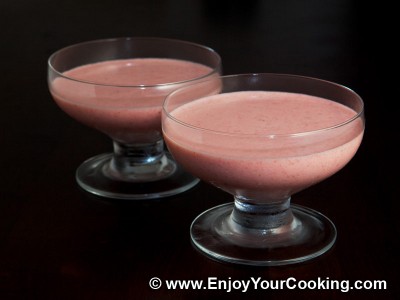 Even though here I can buy strawberries almost any time of year, they are especially tasteful at summer. So yes, it is a strawberry time!
So if you looking for a nice recipe for strawberries – here it is: sweet whipped cream with puree of fresh sweet tasty strawberries and a bit of jelly. Easy to prepare, and even easier to eat 🙂
Of course, whipped cream is a bit heavy for the figure especially if it is mixed with sugar, but it is also totally delicious – so I allow myself to enjoy it every once in a while. But if you are trying to follow low calories / low fat diet this recipe is probably not for you.