Tag:
pie

(Page 1 of 1)

July 30th, 2016 in Desserts by Julia Volhina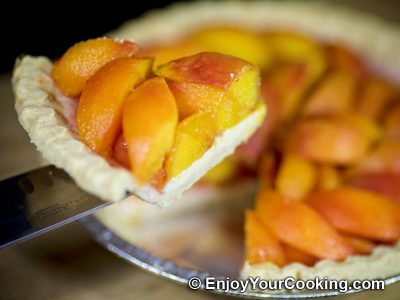 In continuation of a peach topic (remember, I got a whole box of juicy tender sweet Georgia peaches?) I present to you the fresh peach pie recipe.
Almost hassle free (especially if you use ready to bake pie shell as I did) and very tasty (if ripe sweet tasty peaches are used). Peaches remain uncooked (only shell is baked) and taste as fresh as they can be.
I used leftover peach kompot to prepare gelatin topping for this pie. Peach juice can be used instead (if it doesn't contain pineapple in it). A bit of peach preserves mixed with some water to get needed amount and consistency will work as well.
July 26th, 2014 in Fish, Main Dishes by Julia Volhina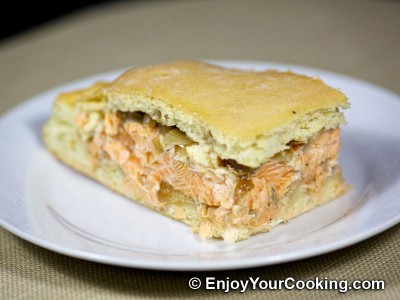 This is not hard recipe to do, but pretty nice one. My mom used to cook it all the time when we were kids: it can be served right away while it is still warm, or later warmed up or cold.
You can use any fish for this recipe (excluding the one with tons of bones), but red and fatty kind will work the best here. I used salmon.
Recipe for portion of unsweetened yeast dough I used can be found here.
Bay leaves here are optional, I like to use them, but they need to be removed before eating, so if you don't want to do that, just skip them altogether.
December 29th, 2012 in Main Dishes, Turkey by Julia Volhina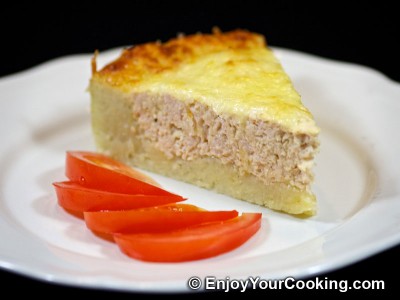 It took me a bit of time to master this recipe: somehow I was either getting too much potatoes (honestly I have to get myself a cooking scale for Christmass) or potatoes I used were too juicy, so it was hard to get meat stuffing in the middle of the pie without sinking it into the batter.
Apparently this issue was easy to fix with draining redundant potato and onion juices using colander (ofc getting the right amount of potatoes helped a bit too).
Using of springform pan is convenient for this recipe however, if you don't have one, any other baking pan of similar size will work fine.