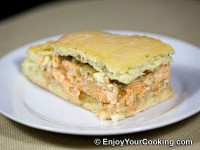 This is not hard recipe to do, but pretty nice one. My mom used to cook it all the time when we were kids: it can be served right away while it is still warm, or later warmed up or cold.
You can use any fish for this recipe (excluding the one with tons of bones), but red and fatty kind will work the best here. I used salmon.
Recipe for portion of unsweetened yeast dough I used can be found here.
Bay leaves here are optional, I like to use them, but they need to be removed before eating, so if you don't want to do that, just skip them altogether.
Ingredients:
1lb-1.5lb salmon fillets or another fish to your taste
2 onions
Few bay leaves (optional)
Tablespoon of butter
Ground black pepper to taste
Salt to taste
Oil
How to prepare, step-by-step:
Enjoy!