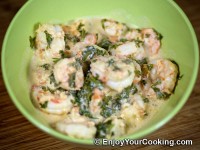 Fast recipe to fix shrimps: simmer them for few minutes in sour cream and butter sauce.
I used raw cleaned shrimps for the recipe. But boiled ones will work as well, just reduce cooking time and temperature (no need for boiling).
Shrimps prepared this way can be a dish on its own, an appetizer or a snack, or it can be served over a bed of rice or pasta.
Ingredients:
1.5lb-2lb raw cleaned shrimps
Bunch of green parsley
8oz of sour cream
2oz of butter
Ground pepper to taste
Paprika to taste
Salt to taste
How to prepare, step-by-step:
Enjoy!