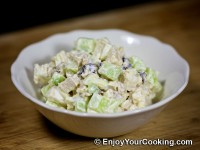 This salad has unusual ingredients combination: prunes, eggs, cucumber, walnuts and chicken, as the title says.
There is no onions or garlic, so it can be served early in the day as well later.
It is also one of few salads in my recipe inventory which does not call for mayo.
Ingredients:
1lb-1.5lb of boneless chicken meat
15-20 dried prunes pitted
4-5 baby cucumbers
3/4 cup of walnuts
3 eggs
8oz of greek yoghurt or sour cream
Salt to taste