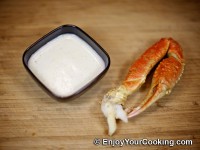 Nice and quick recipe for simple sauce to serve with seafood: crab legs, mussels, clams, lobsters, etc.
You can use use fresh garlic or garlic powder, as well as fresh lemon or lemon juice, whatever is at your disposal.
When served, make sure it can be kept warm enough to prevent butter from thickening.
Ingredients:
3/4 of butter stick
2 garlic cloves (can be replaced with garlic powder)
Thick slice of lemon
Ground black pepper
Pinch of salt to taste (optional)
How to prepare, step-by-step:
Enjoy!
4 Responses to "Lemon Garlic Butter Sauce for Seafood"