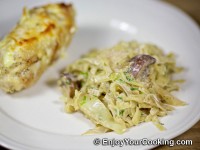 This dish offers great combination of tastes: cabbage, onions, mushrooms and sour cream braised together and seasoned with fresh dill.
Cabbage braised with mushrooms and sour cream can be served as a side or as no meat course on its own.
Time needed for cooking will vary depending on how soft you like cabbage to be, just check its readiness from time to time.
Ingredients:
2-2.5lb of cabbage
8oz of baby bella mushrooms
1 onion
Small bunch of fresh dill
3 tablespoon of sour cream
Ground black pepper to taste
Salt to taste
Oil
How to prepare, step-by-step:
Enjoy!