Tag:
tongue

(Page 1 of 1)

June 18th, 2016 in Appetizers & Snacks, Beef, Main Dishes, Tips, Advices & How-to by Julia Volhina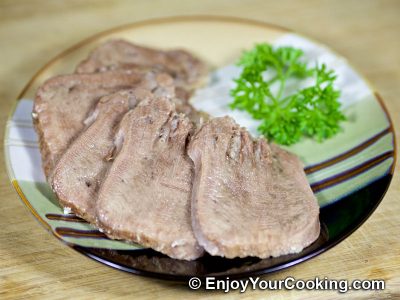 Boiled beef tongue is one of foods I love from the childhood, I love the taste, and it also is nutritious and easily digestible and is a good source of protein.
Boiled beef tongue is a perfect dish on its own, that is you can serve it with a side. But it can be also used for sandwiches, or be sliced into a salad, or be used in further cooking.
Now, cooking time for beef tongue will vary greatly depending on it size and age. It will be anywhere between 2 and 4 hours. So start testing readiness at about 2 hours mark of boiling.
Broth prepared from cooking beef tongue with vegetables tastes great as well, you can use it for a soup or some other cooking, just discard roots and use fresh ones at that point if needed.