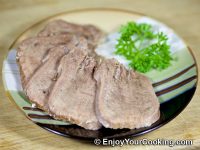 Boiled beef tongue is one of foods I love from the childhood, I love the taste, and it also is nutritious and easily digestible and is a good source of protein.
Boiled beef tongue is a perfect dish on its own, that is you can serve it with a side. But it can be also used for sandwiches, or be sliced into a salad, or be used in further cooking.
Now, cooking time for beef tongue will vary greatly depending on it size and age. It will be anywhere between 2 and 4 hours. So start testing readiness at about 2 hours mark of boiling.
Broth prepared from cooking beef tongue with vegetables tastes great as well, you can use it for a soup or some other cooking, just discard roots and use fresh ones at that point if needed.
Ingredients:
Whole raw beef tongue (1.5-2.5lb)
Small onion
Carrot
Piece of parsnip or parsley root
Piece of celery root
3 bay leaves
6 black peppercorns
3 allspice peppercorns
Salt to taste
How to prepare, step-by-step:
Enjoy!
Nutrition Facts
Servings Per Recipe: 16
Calories Per Serving
:
127
Calories from Fat 81
Amount Per Serving
% Daily Value*
---
---
Amount Per Serving
% Daily Value*
---
---
*Percent Daily Values are based on a 2,000 calorie diet. Your daily values may be higher or lower depending on your calorie needs.
Note: Nutritional information is calculated approximatelly based on recipe amounts and generic ingredients used, real life numbers will vary.