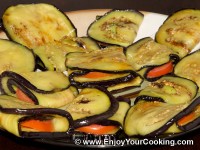 I don't have much to say about this recipe, it mostly says for itself: eggplants and tomatoes – main ingredients – are good combination and garlic doesn't make it any worse.
This recipe isn't much hassle to prepare and ingredients don't cost much; so you can easy get to advised 5 servings of vegetables per day and even enjoy it.
Eggplant rolls taste better while fresh, so prepare them right before serving.
Ingredients:
1 medium size eggplant
2-3 tomatoes
2 garlic cloves
Dill to taste
Ground black peppers to taste
Salt
2-3 tbsp of sunflower or olive oil
How to prepare, step-by-step:
Enjoy!
4 Responses to "Eggplant Rolls"