Category:
Eggs

(Page 3 of 3)

June 12th, 2010 in Eggs, Main Dishes by Julia Volhina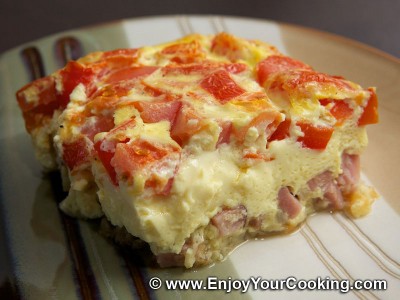 Egg omelette with ham or canadian bacon and vegetables is a nice breakfast dish. It takes more than an hour to prepare, but it totally worth it.
Unlike most of other omelettes which are usually fried eggs with some other ingredients, this one is prepared by baking them in the oven.
It is a bit hard to tell exact baking time for this dish – it depends a lot on the size of the baking pan you use (both size and material it is made of) and amount of ingredients: my advice would be to test omelette with wooden toothpick (pierce it through from top to bottom and remove it) – if it does come out clean – baked omelette is ready.
December 5th, 2009 in Eggs, Main Dishes, Pork by Julia Volhina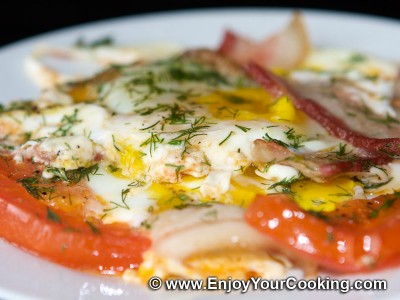 Fried eggs dishes are usually breakfast food, however they are also coming handy when you need to prepare and eat something fast.
Fried eggs with bacon and tomatoes is my favorite way of preparing eggs: easy, tasty and fast. The ingredients in recipe will make a portion for a breakfast for two, adjust amounts if you need more or less.
Cherry or campari tomatoes are perfect for this dish, but if you have any other kind – that will work as well. And if you don't like bacon for some reasons – replace it with half spoon of butter, however I advice to keep it in, for the perfect taste.