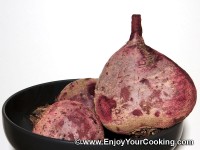 Sometimes you need to boil vegetables such as potatoes, carrots or beets for your salad or other dish.
This article will help you to to make it in the right way. Make sure your vegetables still contain all important nutrients after boiling!
Ingredients:
Root vegetables if your choice
Water
Step-by-step Instructions:
Take a cooking pot with size enough to fit the vegetables you want to boil plus at least 2-3 inches above them.
Fill cooking pot with water and put on the burner and wait until water begins to boil.
Put 1 spoon of salt to the water
Don't peel vegetables, just wash them with water.
Put vegetables to the boiling water and put cover on the pan.
Adjust heating so water with vegetables will not bubble too much.
From time to time check vegetables with knife if they are ready. Prepared vegetable will feel soft when being pierced by knife.
When vegetables are ready, get them out of the water and let them cool down so you can safely peel their skins.
After peeling you boiled vegetables are ready for salad!
Tip and Advises
If you need to prepare several kinds of vegetables, boil them separately, otherwise they will loose color and taste. Also boiling time of different vegetables of different kinds and sized is not equal.
For salad it is better to boil vegetables with their skins, it helps to prevent loosing important nutrients.
Don't let boiled vegetables to stay long in the water after they are prepared – they will became tasteless
The bigger vegetables is the less nutrients it will loose while boiling
If possible try to boil vegetables of the same size together, it will allow them to be ready in the same time.