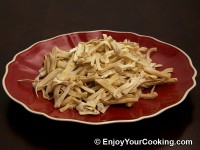 Homemade egg yolk noodles are not so hard to do as it may seem. Lapsha (in russian cuisine) or klusky (in ukrainian cuisine) are as easy to do as simple egg and flour dough.
It is also a good way to use leftover yolks if you needed egg whites for some other dish.
Boiled homemade egg noodles can be served as a side dish or added to meat or chicken broth or soup.
Ingredients:
1 egg (you will need only yolk)
1/4 cup of water
1/2 teaspoon of salt
About cup of flour
How to prepare, step-by-step:
Enjoy!
6 Responses to "How to Make Homemade Egg Noodles"