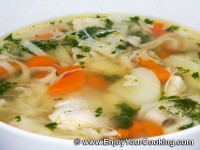 I think – and I hope you will agree with me – nothing tastes better in the cold fall weather than a bowl of hot soup. Make it a chicken soup and it will be hard for you to stop feeling warm and cozy even if outside it is raining since the last week.
Should I also mention what soups, especially chicken soups, are very good for the digestive system, especially if body is weakened by recently or ongoing illness. What can be better for the upcoming flu-season?
Lets gather the ingredients and make tasty noodle soup: Chicken Soup with Egg Linguine, it is really easy after all.
Ingredients:
2 rock cornish game hens (without giblets), about 2.5lb-2.75lb
2-3 carrots
1 onion
1 parsley root or parsnip
2 potatoes
Small bowl of egg linguine
Fresh herbs: parsley, you may also add dill if you like
Salt and ground pepper to taste
How to prepare, step-by-step:
Bon Appetit!
2 Responses to "Chicken Soup with Egg Linguine"