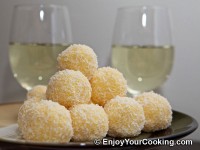 Cheese, clove of garlic, a bit of mayo, shredded coconut and about 20 mins of time it is all you need to prepare cheese balls appetizer.
Cheese goes great with wine. So cheese balls are great for wine tasting or wine party.
Cheese balls are finger food and can be served as is or on crackers.
Ingredients:
About 3/4 lb of cheese
1/2 of garlic clove
2-3 tablespoons of mayonnaise
1/3 cups of shredded coconut
Salt to taste
Paprika (optional)
How to prepare, step-by-step:
Enjoy!
2 Responses to "Cheese Balls Appetizer"