---
There is more than one recipe for lenten foods on this website, if you are looking for some other recipe, try here:
homemade lenten food recipes
.
---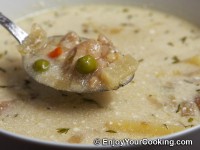 This soup doesn't include any meat, it is based on mushrooms and have vegetables (carrot, parsley and celery roots, potato) as well as pearl barley.
Such kind of mushroom soup is very popular in Russia. Various kind of mushrooms can be used in this recipe, but I must say fresh or frozen porcini are the best tasting ones, if you can find them, of course.
If you are not trying to follow Great Lent rules – my advise is don't skip on sour cream, 1 tablespoon of sour cream to the bowl of mushroom soup not only adds nutrients, but also gives the soup its unique rich taste.
Ingredients:
13-15oz of fresh or frozen porcini mushrooms (can be replaced with other types of mushrooms to taste)
1/3 cup of pearl barleys
1 cup of green peas (fresh or frozen)
1 medium onion
2 medium potatoes
Roots: ½ of parsley root, small piece of celery root, 1 carrot
Fresh dill (dried dill can be used as well)
3 cloves of garlic
3 bay leaves
Several black papper and allspice corns
Salt to taste
Vegetable oil
Sour cream
How to prepare, step-by-step:
Enjoy!