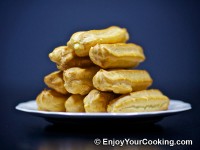 While preparing for this post I got some difficulties translating name as well as figuring origin of the recipe.
I guess the general decision was that the recipe is french, however I never ate eclairs prepared by french cook, so I can't prove that this is exactly the same recipe.
This is recipe as eclairs are cooked in Russia, russian name of that pastry is "zavarnye pirozhennye" and it relates to the way the dough is cooked by boiling.
The common name in english speaking worlds seems to be eclairs, however this only related to long shaped pastry. Round ones are often called cream puffs, even though they are only different in shape.
I do fill these with vanilla custard, but other fillings can be used as well: whipped cream (these would need to be served as soon as made or cream needs to be stabilized), butter and condensed milk filling, and so on.
Ingredients:

Eclair Shells:
3.5 oz butter
1 cup of water
1 cup of all purpose flour
4-5 eggs
1 teaspoon of sugar
1/3 teaspoon of salt

Vanilla Custard Filling:
2.5 cups of milk
1/2 cups of sugar (or more to taste)
4 egg yolks
1/2 cups of all purpose flour
Vanilla extract to taste
How to prepare, step-by-step:

Enjoy!