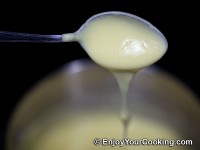 I use vanilla custard to fill eclairs and cream puffs. It is easy to do (just don't forget to stir) and tastes delicious!
This custard can also be spread thin dry layers of multi-layer cakes such as "Napoleon".
Vanilla custard calls for egg yolks, so you can find these recipes which call for egg whites somewhat useful.
Ingredients:
2.5 cups of milk
4 egg yolks
1/2 cups of sugar (or more to taste)
1/2 cups of all purpose flour
Vanilla extract to taste
How to prepare, step-by-step:
Enjoy!