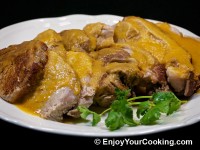 If you are looking for a dinner roast recipe, this one is for you: juicy homemade veal roast with pureed sauce prepared from carrots, onions and tomatoes stewed in dry red wine and meat juices.
Pureeing vegetables makes sauce more homogeneous (and looking and tasting more like a sauce), however you can also pour cooked meat with cooked vegetable mix without pureeing it, that may save you some time if needed.
Meat roasted this way tastes great served straight from the oven as well as cooled down.
Ingredients:
3-3.5lb veal roast, whole peace
2 onions
2 carrots
3 roma tomatoes
6-7 garlic cloves
3 bay leaves
20 black pepper corns
1.5 cups of dry red wine (can be substituted with water)
2 table spoons of all purpose flour
0.5 cup of water
Oil
Salt to taste
How to prepare, step-by-step:
Enjoy!
2 Responses to "Veal Roast with Pureed Vegetable Sauce"